Establishing a meadow
The easiest method
The easiest way to set up a meadow is to stop mowing part of your lawn. We mow some grass, we let others grow without restriction, getting gorgeous relatively quickly, three-dimensional effect. Establishing a meadow in a large garden, we significantly reduce the time spent on mowing and the amount of grass cut.
The area is covered with tall trees, grass swaying in the wind and cut by modest paths, it completely changes the perspective of the garden. We can divide a rectangular surface into four smaller rectangles and surround it with straight paths. Lovers of less formal solutions can set up a meadow covered with grassy islands of irregular shape.
Vegetation, which will grow up in the meadow thus established, will depend on the species, on the lawn. If the lawn was well kept, in the meadow there will probably only appear clumps of grass topped with interesting spikes. However, if we let nature act, to our surprise, the meadow will be quickly decorated with wild flowers: maki, chabry, camomile, meadow cress and other plants.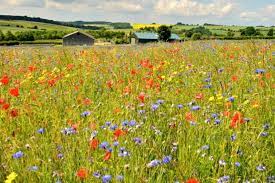 The meadow is also a great environment for many animals, e.g.. caterpillars of cress (also known as the Aurora Butterfly) they forage only on meadow cress, and when the nettle is lost, the ossetnik is also lost, peacock and admiral. Maintaining the meadow requires much less work from us, however, this does not mean, that we are completely exempt from carrying out systematic beauty treatments.
Meadow care
We cannot admit, so that our meadow gives the impression of a wild or neglected part of the garden. That is why we mow it at least once a year, preferably in mid or late summer. This procedure is difficult to perform with a typical lawn mower, because the grass is too high. Therefore, we will need other tools to work. If our link is limited to a small area, e.g.. encircled the apple tree growing at the back of the garden, hand tools are sufficient: sharp scythe or long-bladed scissors.
On larger surfaces, it is worth using mechanical brushcutters or trimmers equipped with combustion or electric motors. It is much more convenient to use devices with an internal combustion engine. The electric wire is difficult to see in the tall grass, gets tangled up in clumps, making it easy to cut. After mowing, remove the cut plant fragments, that they do not decompose and provide nutrients to the soil. Enriched soil would over-stimulate the growth of grass, which would grow at the expense of meadow flowers. If we have a large meadow, we may also consider leaving small sections without mowing. Many animals will find shelter in such places.
Introducing new plants
We have two solutions to choose from: we can leave the meadow to itself, allowing, that the diversity of plants is taken care of by nature, or introduce meadow flowers on it, suitable for the type of soil. For example, to the meadow, which would become fertile, the moist soil of my garden, I could introduce a torn curtain (Lychnis flos-cuculi) and gilding proper (Leucanthemum vulgare), popularly called daisy. Pyrethrum, though full of charm, usually dies after a few years. However, I am thinking, that then it is worth sowing it again. On my meadow, I would also like to see the lesser haberdasher (Rhinanthus minor). This plant is a semi-parasite – from the host's organism it takes only some of the essential ingredients, which weakens the growth of grasses. The swordfish can also live independently, without a host, however, it does not produce flowers. We can introduce verbena or thyme on a meadow with lighter soils. There are ready-made mixtures of meadow plants on the market intended for the appropriate type of soil. It is best to sow the plants in containers and transfer the seedlings to the meadow. Let us also remember this, to choose the species in this way, so that our meadow blends perfectly into the local landscape.
The more difficult method
There is a gardening school, according to which it is impossible to get a really good meadow without first reducing the fertility of the soil. In poor soils, grasses do not grow very quickly, thus enabling the development of other meadow plants. To meet this condition, poor owners, sandy soils do not need to do anything. However, those of us, whose gardens were built on the rich, fertile soils, they will be forced to remove the top layer of soil, revealing poorer subsoil. Another solution is to mix heavy soil with sand to a depth of about half a meter. Only on such a substrate we sow an appropriate mixture of grasses and other meadow plants.
By following this method, we will certainly get a more colorful meadow. Personally, however, I do, that such a meadow only looks attractive then, when it blends in properly with the surrounding landscape. In my garden, a richly flowered meadow would contrast too much with the surrounding green landscape, quiet fields.
We select the seed mixture based on the type of our soil and local climatic conditions. We avoid species of fast-growing grasses. Overall, we can accept, that a mixture of such v 80% it should consist of various species of slow-growing grasses, a w 20% – from seeds of other meadow plants. Autumn is the best time to sow, possibly spring, when the soil warms up after winter. After sowing, the soil should not become dry for at least one month. In the case of large areas on 1 hectare we sow approx 15-20 kg of seed mixture, and on the smaller ones – about 2 g na 1 m². During germination and growth, we carefully observe the plants and support their development by regular weeding. When the plants exceed height 9 cm, we mow them to a height of approx 4 cm. Repeat mowing until autumn, while saving the plants, which are in the flowering period. It is worth dividing the meadow into smaller sectors and mowing them at different times. This will ensure proper development for both plants early on, and late flowering.